Stephanie's Speech
Upon Promotion to the
Rank of Captain, Unites States Navy
Thursday 3 August 2006
The Women's Memorial at Arlington National Cemetary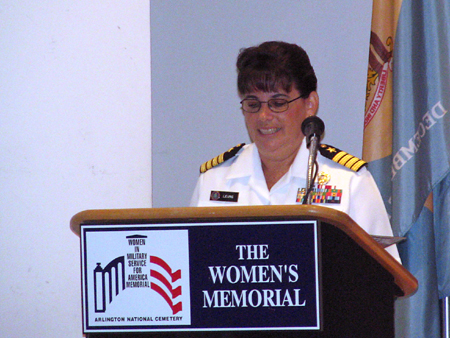 Thank you RDML Dorsett, RDML Cothron, RADM Porterfield, Capt Warshawsky, My family, friends and colleagues thank you for finding time in your schedule to be here with me and my family today. Ever since my name appeared on the "Captain's" list, Capt Pera has said I should call him Dick and it has taken some time to get used to but I guess after today I should really get over that. In the last 10 years "Dick" has never been in my direct chain of command, he has never written a Fitness Report on me or counseled me directly on my job performance, but he has been a true mentor, leader and friend to me. Mary and Dick Pera have been true friends to Victor, me and the kids and have shared some very good times with our family. To have him and Mary here to preside over this ceremony was very important to Victor and I and I just want to sincerely thank them both.
While it may be me up here today, the real reason I am here is because of you who have joined me today. I would not have been able to take the jobs required if it had not been for my family first and foremost. I would not have learned the things I've learned over the years if it had not been for people like Capt Pera, RDML Cothron (My first Senior Watch Officer who challenged me everyday we had watch together and which my current team 4 is living the dream now with me), Capt Dave Warshawsky, who made it a mission for three years to get me to lateral transfer into the Intelligence Community; RADM Porterfield, who lived up to every expectation I had when I asked him for all the resources I needed to be successful in my position in Israel; Mr. Bob Huddleston who was my first Battle Group Commander and supported me off the West Coast of Africa and Albania while he was in the Persian Gulf; Commodore Greg Ertel who expected me to know Intel but ensured my first sea tour I knew all of his requirements as an operator even before he asked, and Mr. Bill Huntington who told me that learning about SIGINT was a good thing for an Intelligence Officer.
It also has a lot to do to have had the opportunity and good fortune to have worked side by side with a very talented group of Chief Petty Officers and Blue Shirts from all services and civilians during my career. When I was an Ensign I served under Admiral Watkins, the Chief of Naval Operations. I think I was the only Ensign on his staff and I was responsible for a division of 45 people. He told me the most important thing was for me to learn something new everyday, especially from my blue shirts and civilians and he challenged me to do just that. I have lived by that rule everyday (I even make my kids live by that rule) and it has taught me to know when it is time to roll up my sleeves and help get the job done; when it is time to sit back and let my troops shine on their own; and when it is time to listen to the folks I work with and rely on their experiences and expertise to make or recommend a decision that is required. They have really been the success story in my career.
And while my Military colleagues have been outstanding, if it were not for my family and friends, I would not have even had the chance to accept the jobs that I have been so fortunate to have had. Two of my life-long friends are here today and a third will arrive Friday evening. Many of you have heard about them for 21 years. Marci and Renee and I have been together since third grade. Our husbands knew that not only were they getting their in-laws but they were getting us as well. Although Renee's husband MARY, I mean Ray…has known that since ……And Alex got a first hand look at it when he and Marci were only dating a month and she flew out to San Diego on less than a weeks notice to be in our 1st wedding for Valentines and not with him. The two of them and their families have been great support life lines for me and Vic over the years.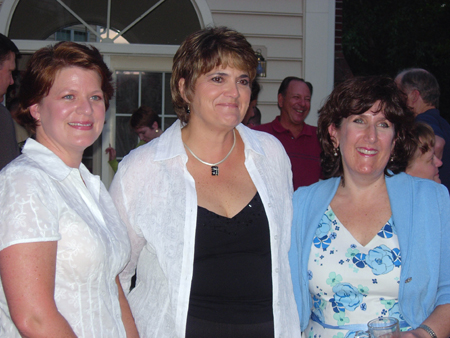 During my last promotion I was on the Israeli SAAR V, INS Lahav and one of our friends used his cell phone and held it next to the speaker for the whole ceremony for Marci to hear. So, I think for Renee and Marci this is a much better situation. I have the most wonderful two sisters in Marci and Renee and they have served their country by helping me serve mine. Renee still lives in our home town and keeps a watchful eye on my family. The Phares's house us when we are in town (whether it is regular leave or emergency leave). They keep tabs on my parents and brother like they are related by blood. They keep my kids fulfilled with their desires to go to Disney. Knowing they are there has helped give us the piece of mind you need when you can't live near your folks. They have shared some of our most memorable times together whether it's driving up for this promotion or flying their whole family out to San Diego. I am just so pleased they are here today with my most favorite Republican, their Son Christopher.
Marci and I 21 years ago graduated college together and she decided to come with me to DC to see if she could find a job here just because I asked her to. I still remember driving up and coming up across the memorial bridge and getting lost immediately. We got through that frightful moment and continue to share some very wonderful times together. She recently did a one week deployment for the good of the Navy when I asked her to leave her family to take care of my family so I could take the one week I had to house hunt up here in DC with Vic. For them and their whole family, including her mom and dad Gayle and Bernie, to be here today is yet another event in our lives that shows how special we are to each other and how our friendships have withstood time and distance.
Jeni and Alden Pierce have been friends of Victor's and mine since we met at FITCPAC. We've stood up for each other in four of the five of our wedding's…we've shared the birth's of our children and for the last 5 weeks my family has shared their home. Jeni thank you for agreeing to MC today and make this event run smoothly.
My mother and father in law, Shirley and Ted have traveled from California. Whenever I refer to them as "mother or father in law" it feels strange because I've never really felt like they weren't related to me other than by blood. I know that it was Vic and I that said in sickness or in health but these two have always come through for me and the family and I am truly one of the lucky ones because they have always made me feel like their daughter. They support all of our decisions and are as proud of me as my own parents. I am so blessed they could be here with us today and this week.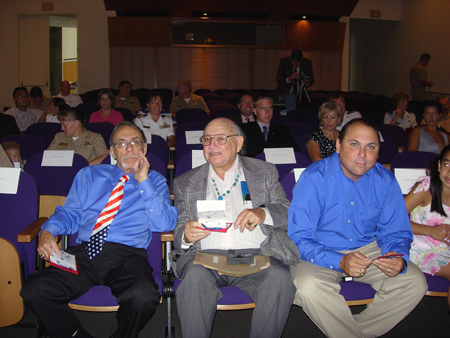 My brother Mark and I, as with many siblings, became much closer as adults than we were as children. He is always there on the other end of the phone to receive the news as to where I'll be stationed next, he is in Florida to take care of mom and dad and doesn't hesitate to tell me when I need to be there, he never forgets a birthday, anniversary or special occasion to make sure my kids know their Aunt and Uncle are in their lives. Growing up I wanted a brother just like him and he became the brother I wanted. I'm thankful for him and his wife and Daughter (Jen and Abby) because they are the glue that with me being in the Navy keeps it all together for us.
Dad is the reason I am in the Navy. For those I have served with you now know who to blame it all on. And with the exception of Bahrain, which he sent mom to, he has been to every command I have been stationed and he has me everyone of my boss's. He has always been my biggest fan! He supports every thing we have done even when he wasn't sure why I was doing it. I think the thing he enjoys most about me being in the navy is all the ball caps he has accumulated with every ship or command I have been attached to. Vic and I are so glad he could make it to both this promotion and my last one that was in Israel.
Warren and Peggy, Thank you for sharing today with us and for once again taking part in another Leung special occasion. I also want to mention and thank Lynn Seroka and Marti Kwan who over the last eight weeks has helped me put this event together. We couldn't have done it without them and their family's support.
I have other very special folks from out of town that I just want to thank…My Aunt Lois and Uncle Mike (My dad's Sister); My Cousin Louie and Barbara from New York, Vic's cousin David, a Fireman in California, Our dear friend Patti Sullivan who is the only person who would visit us in Israel. Gayle and Bernie Ollanove who have had to put up with me since third grade and who too have done a deployment away from their family by taking care of Timothy when he was just 8 months old. To formerly thank you I have arranged for a Pentagon tour today for most of you and for a couple of you I have been lucky to get a white house tour for you on Saturday.
My three children have been very supportive of every underway period, every TDY, and all the long hours away from home. Samantha is our oldest, born in Bahrain, she has been there for all of it, two sea tours, TDY three times to Saudi Arabia, five times to Kuwait, five moves, seven schools, and an evacuation out of Israel. She adapts to all of the situations even when she doesn't really totally agree with them. Samantha always keeps me grounded and tries hard to be the big sister in the house when I am away whether it be for the day or longer. So, Sam, I just want you to know how much your support means to me and I wanted to start you off with a charm bracelet for you to begin adding to all the memories we share together. The first charm should remind you of today and how important you are to me.
Nicole is our princess of the house. She too has been through several moves and jobs. She is so generous with everyone in our family. She is the one who tells me every time I'm away that she doesn't miss me at all, which you may not think is generous at all. No she doesn't miss me she says because I am always in her heart and she has a huge heart for a 6 year old. Did I say SIX? Nicole is so generous she is sharing her seventh birthday today with my promotion. She knows that she is not going to get to have her school friends from Virginia Beach to share her birthday but rather she will share it with all of our family and friends and is okay with it all. So, Nicole, I wanted to give you a piece of my heart to always wear.
Timothy I think prefers when I'm going to sea. At least initially when he gets to come on the ship, check out the stateroom, the mess, and the flight deck. He thinks all of that is really cool when mom leaves for the "SHIP". He has had a harder time over the last eight weeks when I was here in DC and he was in Va Beach. For Timothy as long as I am going out on the ship he can understand why I'm gone, but just coming up to start a new job here in DC doesn't really make sense because its not a ship and he thinks Dad should do that job. He tells me he wants to fly jets one day…over the holidays last December he became a Master Jedi. In our family right now we can't really go two or three nights without watching one of the Star Wars and he loves the flying scenes. Maybe he'll be a Navy Pilot, but for now I wanted to give you this little lego kit to build a real plane from Star Wars.
Victor, I don't think either of us knew 12 years ago I'd be standing here today. But you know I could not have done it without your support the most. When I first met you, you were getting your Master's Degree, getting out of the Navy, heading back up to Northern California and starting over. WoW, how that has changed. I still remember when I thought we would be over as soon as I told you I was going to go to Bahrain, and you didn't skip a beat when you said you'd go with me. You encouraged me to do a real sea tour and not let 5th fleet count as a sea tour and you have been letting me go strong ever since. But without your advise, support and love I could've never had this wonderful family and I wouldn't be standing here today. In Hebrew there is a prayer used when two people get married. I'm not sure when two people get married they really understand the true meaning of it until they begin to actually share each other's lives ----Ani L'Dodi V Dodi Li…I am my beloved's my beloved is mine. So, you always know how special you and our family are to me.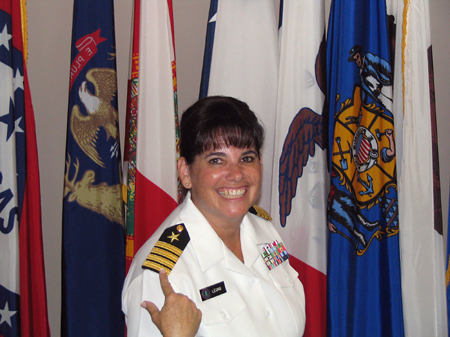 -Lastly, those of you may or may not know why my mother is unable to be here today. But let me tell you if she could be here today she would. She flew all the way to Israel for my promotion to Commander and it didn't matter how many oxygen bottles she was going to have to go through on the round trip plane, she was not going to miss it. She was always our rock at home, she gave us our moral foundation, our ability to love, the generosity that Mark and I all too often get told that it is almost to a fault, our sense of family and friendship. If she could be here she would and I know that she would be sitting next to Mark, Dad, Shirley and Ted just as proud and with that smile that could just light up a room. So, I want to truly dedicate today to her. She has always given me my inner strength to get through anything.
5 years ago when I was promoted to Commander and I woke up the first morning to put these - and these - on I had to pinch myself. I remember thinking that over time it would just become routine and that feeling would soon go away. But, I can honestly tell you that everyday over the past five years when I have gotten up to get dressed for work I still pinch myself. I'm not sure what I'll do now that I have these eagles but I will tell you I am truly humble to be in the company of everyone in my year group who was considered for this promotion and do not take today lightly. During the ground breaking ceremony of the Woman's Memorial held June 22, 1995, Secretary of Defense William J. Perry said the following:
The ground they broke was hard soil indeed but with great heart and true grit, they plowed right through the prejudice and presumption, cutting a path for their daughters and granddaughters to serve their country in uniform.

I am so proud to be among them
I am truly blessed to be here today and thank all of you for sharing today with me.